Event Details
The Upper Left Beerfest Is Back!
Mark your calendars for August 27 & 28
Quick Event Details:
Location: Intersection of Wetmore Ave & Hewitt Ave near Everett City Hall (2930 Wetmore Ave)
Dates/Times: Friday, August 27 (4pm – 8:30pm) & Saturday August 28 (12pm – 7pm)
*Food Truck Festival is ONLY August 28 from 11am – 6pm
Rules:
21+ ONLY – No minors will be allowed & all attendees will be asked for ID upon entry (even newborns aren't allowed)
Dogs – Unfortunately Dogs are not allowed in the beer festival. They are allowed at the food truck festival though
Re-Entry – Attendees will be allowed to re-enter the beer festival (with food from the trucks if you'd like). Just don't remove that wristband!
The Upper Left Beerfest will once again be taking over the streets of downtown Everett, August 2021! With the support of the City of Everett as well as the Downtown Everett Association, the Upper Left Beerfest will return larger than ever. The event will again be a two-day festival taking place Friday & Saturday, August 27 & 28, featuring live music throughout both days. 2021 also again feature over 20 breweries and cideries from around the Northwest.
New In 2021-
After an extremely successful "loose" partnership with the Everett Food Truck Festival in 2019 which saw lots of smiling faces, families and excited beer drinkers visiting both the beer festival and food truck festival, we've decided to partner together into one big event…
Welcome to Everett's Upper Left Beerfest & Food Truck Festival!
In 2021, you'll find us at our new home on Wetmore. Stretching from Everett Ave to Wall St along Wetmore, the food truck festival, which is free and open to everyone, will stretch along Wetmore from Everett Ave to Hewitt and will feature lots of food trucks on Saturday, August 28 from 11am – 6pm.
Tickets!
Tickets are now on sale for the Upper Left Beerfest.
Each ticket (per day) will include a 5oz. Upper Left Beerfest commemorative tasting glass & 6 tasting tokens
Additional tokens will be available for purchase at the front gate for $2 per token or 3 for $5
Designated driver attendees ($5) will receive free soda/water inside the event
Discounted Tickets – 20% discounts available for groups & businesses of 6 or more. Email us at info@fizzeventsnw.com to receive your discount code!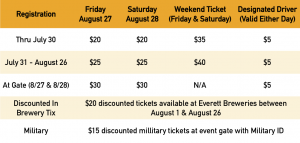 Discounted – At Brewery Tickets
$20 discounted tickets are available at Everett area breweries and bottle shops from August 1 through August 26. To score your $20 single day tix (ticket is good either day), visit one of the following locations:
At Large Brewing
Crucible Brewing (Everett Location)
Lazy Boy Brewing
Middleton Brewing
Scuttlebutt Brewing Taproom (Taproom only, not restaurant)
Soundbite Cider
Toggles Bottleshop
Volunteer!
Volunteers are always needed to help support the festival. Volunteers will help at the entry gate as well as giving brewers much needed breaks.
Volunteer Shifts Are:
#1 – Friday, August 27 | 3:30pm – 8:00pm
#2 – Saturday, August 28 | 11:30am – 3:15pm
#3 – Saturday, August 28 | 3:00pm – 7:00pm
FREE TICKETS! That's right, all volunteers that support the festival will receive a free entry ticket to the festival to enjoy after their shift. Sign up for a Friday shift? We'll hook you up with a Saturday Ticket!
The Music!
The Upper Left Beerfest will once again kick off Friday, August 27 with "Hoppy Hour" from 4pm – 8:00pm, featuring DJ Forrest Gump spinning upbeat music while attendees enjoy beverages from their favorite Washington Breweries!
Saturday, we'll be back from 12:00pm – 7:00pm with live music on stage all day playing everything from originals to fun, upbeat covers.
The Lineup!
Friday, August 27
          4:00pm – 8:00pm – DJ Forrest Gump
Saturday August 28
          1:00PM – MTR Project – Martin Thomas Reed
          2:15PM – Steel Beans
          3:30PM – Outshined Trio – Tribute to Chris Cornell & Soundgarden
          5:15PM – FIASCO – The World's MOST Dangerous Acoustic Band!
Our Beneficiary!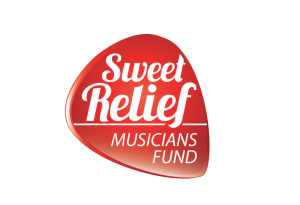 Our goal at the Upper Left Beerfest is to support local. Whether that is some of the best, local, craft beer around, entrepreneurs who make a living through their food trucks or bringing live music to you from local artists, we want to support the local community.
In 2021 – we'll again be doing just that with the help of our beneficiary, the Sweet Relief Musicians Fund! A portion of all ticket sales and 100% of all donations will go towards the music fund. In addition, local brewers will be creating "ROCK ON" Crafted Lager with proceeds going to Sweet Relief. Want to try ROCK ON lager? Visit the Crucible beer tent at the Upper Left Beerfest, they'll be unveiling their brand new lager at the festival!
Who Sweet Relief Supports:
Sweet Relief Musicians Fund provides financial assistance to all types of career musicians and music industry workers who are struggling to make ends meet while facing illness, disability, age-related problems and displaced musicians due to COVID-19. For more information, visit: https://www.sweetrelief.org 
Grab your tickets and join us at our new home on Wetmore Ave between Hewitt & Wall – Next to City Hall where we'll have plenty of breweries, lots of beer and live music all weekend long!