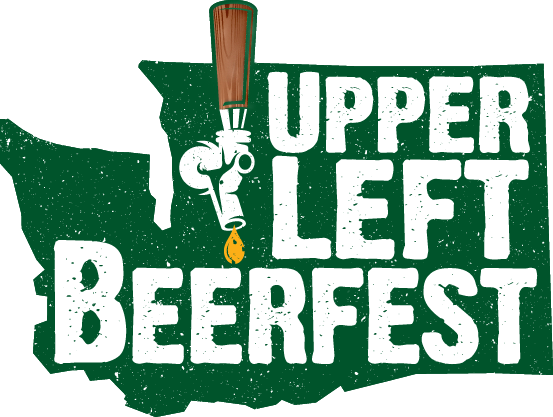 Everett, Washington
Aug 14th & 15th, 2020
Event Details
The Upper Left Beerfest is coming back to Everett this summer! With the support of the City of Everett as well as the Downtown Everett Association, the Upper Left Beerfest will return larger than ever. The event will again be a two-day festival taking place Friday & Saturday, August 14 & 15 featuring live music throughout both days. 2020 also again feature over 25 of the best breweries and cideries from around the Northwest.
MORE BEER & MORE FOOD IN 2020!
2019 was a year of exciting additions for the Upper Left Beerfest. Forming a loose partnership with the Everett Food Truck Festival, both happening on the same day, saw large increases in attendance for both events. In 2020 – you'll see the Upper Left Beerfest and Everett Food Truck Festival merge into one large event, combined together on the same block! Featuring 25-30 breweries and 20 food trucks along with arts exhibitors and live music, we expect lots of people and lots of fun in August! Attendees of the beer festival will have in/out privileges to visit their favorite food trucks while drinking their favorite craft beers from around the region!
Please scroll down to view ticket options, see which breweries/cideries will be in attendance and the music stage schedule. Closer to the event, we will also have an event map showing which food trucks will be attending the Everett Food Truck Festival!
Friday & Saturday inside the Upper Left Beerfest will be 21+ Only
Saturday's tasting event – 21+ Only but the food truck festival and craft fair is for all ages (outside the beer festival) and will feature live music all day
TICKET SALES
Each ticket (per day) will include a 5oz. Upper Left Beerfest commemorative tasting glass & 6 tasting tokens
Additional tokens will be available for purchase inside the event for either $2 per token or 3 tokens for $5
Designated driver attendees ($5) will receive free soda/water inside the event
Discounted Tickets – 20% discounts Available for groups & business of 6 or more. Take off early from work on Friday and come celebrate the start of your weekend with us! Bring your entire work to the Upper Left Beerfest! Email us at info@fizzeventsnw.com to receive the discount code.
Registration
Friday, August 14
Saturday, August 15
Weekend Ticket (Friday & Saturday)
Designated Driver (valid either day)
NOW - July 10
$20
$20
$35
$5
July 11 - August 13
$25
$25
$40
$5
August 14 & 15 (At Gate)
$30
$30
N/A
$5
Military
$15 discounted military tickets at event gate with military ID
*For FREE Upper Left Beerfest Tickets, please see the "VOLUNTEER" section below for details
BREWERY IN-STORE DISCOUNTED TICKETS (Available starting July)
$20 discounted tickets are available at select Everett area breweries and bottle shops. All you need to do is visit your favorite brewery, grab a pint, then on your way out, pick up your single day Upper Left Beerfest discounted ticket for only $20. That is a $5 savings and no handling fees vs online sales. (Tickets will be available starting in July)
2019 Ticket Sales Locations
At Large Brewing
Crucible Brewing (Everett Location)
Toggle's Bottle Shop
Lazy Boy Brewing
Middleton Brewing
Scuttlebutt Taproom (On Cedar St)
Soundbite Cider (Located next door to Crucible's Everett Location)
VOLUNTEER – EARN FREE UPPER LEFT BEERFEST TICKETS
Interested in attending the Upper Left Beerfest for FREE? Volunteer with us!
Volunteers are needed both Friday, August 14 and Saturday, August 15 to assist with the festival. Volunteers will help set up the event, help attendees enter the festival, provide breaks to brewers and more. Friday volunteers will receive a free ticket to Saturday's event at the completion of their shift. Saturday shift #1 volunteers will receive entry at the completion of their shift. If you'd like to help during Saturday's shift #2, we'd be happy to provide you (prior to your volunteer shift) a ticket to Friday's event.
Volunteer Shifts:
Friday, August 14 | 3:30pm – 8:00pm
Saturday, August 15 (shift #1) | 11:30am – 3:15pm
Saturday, August 15 (shift #2) | 3:00pm – 7:00pm
EVENT GATE
The 20120 Upper Left Beerfest will take place on Wetmore Ave near the Wetmore Plaza, perpendicular to California & Funko Offices. The event gate will be located on Everett Ave. We suggest that attendees still utilize the Everpark Garage as a parking location.
MUSIC LINEUP
Friday,  August 14
Friday's Upper Left festivities will have a happy hour theme. We invite you to join us on Friday night after your work week has ended to enjoy some tasty craft brew. Friday will feature a live DJ spinning music from the 90's and beyond!
Saturday, August 15
Saturday will feature live music all day on the MainStage. We will be announcing our music lineup closer to the event.
PARKING
Everpark Garage – Everpark Garage will offer free parking to all event attendees located at 2825 Hoyt Ave, Everett WA 98201
Surface Streets – There are numerous surface streets that offer free parking on evenings and weekends close to the event, please obey all traffic/parking signs
If driving to/from the event please drive responsibly and do not drink and drive.
Great Beer, Great Food, Great Fun.
Food
The 2020 Upper Left Beerfest and Everett Food Truck Festival are combining to be Everett's big craft weekend in 2020! Both events will happen at Wetmore Plaza with 20+ food trucks surrounding the Upper Left Beerfest gates! Beerfest attendees will have the option to exit the event gates, grab food and enjoy it inside the beer festival while enjoying tasty brews & live music!
A complete food truck lineup will be available closer to the event.