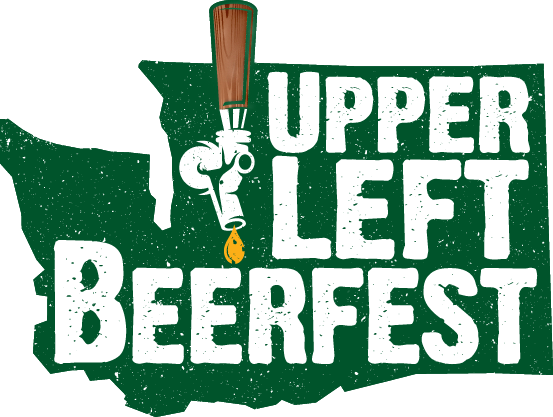 Everett, Washington
Sept 7th & 8th, 2018
Event Details
The Upper Left Beerfest is coming back to Everett, WA in 2018! With the support of the City of Everett as well as the Downtown Everett Association, the Upper Left Beerfest will return larger than ever. The event will be a two-day festival taking place Friday & Saturday, September 7 & 8 featuring live music throughout both. days, some of the best food trucks from the area, and of course, craft beer. In fact, lots of craft beer! 2018 will feature over 30 of the best breweries and cideries from around the Northwest.
Please scroll down to view ticket options, see which breweries/cideries will be in attendance as well as food trucks traveling to the event and music stage schedule.
This event is 21+ only – Unfortunately, the fun is only for adults this year.
TICKET SALES
Each ticket (per day) will include a 5oz. Upper Left Beerfest commemorative tasting glass & 6 tasting tokens
Additional tokens will be available for purchase inside the event for either $2 per token or 3 tokens for $5
Designated drivers will receive free soda/water inside the event
Discounted Tickets – 20% discounts Available for groups & business of 6 or more. Take off early from work on Friday and come celebrate the start of your weekend with us! Bring your entire work to the Upper Left Beerfest! Email us at info@fizzeventsnw.com to receive the discount code.
Registration
Friday, Sept. 7
Saturday, Sept. 8
Weekend Ticket (Friday & Saturday)
Designated Driver (valid either day)
June 11 - August 3
$20
$20
$35
$5
August 4 - September 6
$25
$25
$40
$5
September 7 & 8 (At Gate)
$30
$30
N/A
$5
Military
$15 discounted military tickets available at the gate with ID
EVENT GATE
The 2018 Upper Left Beerfest will take place on Hoyt Ave. The event gate will be located on Hoyt Ave north of the Everpark Garage extending north to Everett Ave.
MUSIC LINEUP
Friday,  September 7
Friday's Upper Left festivities will have a happy hour theme. We invite you to join us on Friday night after your work week has ended to enjoy some tasty craft brew. Friday will feature a live DJ spinning music from the 90's and beyond!
Saturday, September 8
Saturday will feature live music from 12:00pm – 7:00pm featuring local artists from all genres. Check back closer to the event to learn more about the music lineup.
PARKING
Parking will be available along Everett surface streets or within the Everpark Garage located at 2825 Hoyt Ave, Everett, WA 98201. If driving to/from the event please drive responsibly and do not drink and drive.
Great Beer, Great Food, Great Fun.