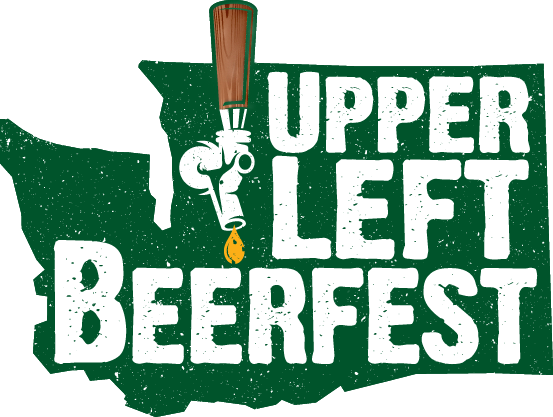 Everett, Washington
Aug 27th & 28th, 2021
Event Details
The Upper Left Beerfest Is Back!
Mark your calendars for August 27 & 28
The Upper Left Beerfest will once again be taking over the streets of downtown Everett, August 2021! With the support of the City of Everett as well as the Downtown Everett Association, the Upper Left Beerfest will return larger than ever. The event will again be a two-day festival taking place Friday & Saturday, August 27 & 28, featuring live music throughout both days. 2021 also again feature over 25 breweries and cideries from around the Northwest.
New In 2021-
After an extremely successful "loose" partnership with the Everett Food Truck Festival in 2019 which saw lots of smiling faces, families and excited beer drinkers visiting both the beer festival and food truck festival, we've decided to partner together into one big event…
Welcome to Everett's Upper Left Beerfest & Food Truck Festival!
In 2021, you'll find us at our new home on Wetmore. Stretching from Everett Ave to Wall St along Wetmore, the food truck festival, which is free and open to everyone, will stretch along Wetmore from Everett Ave to Hewitt and will feature 25+ food trucks on Saturday, August 28 from 11am – 7pm.
The Upper Left Beerfest will once again kick off Friday, August 27 with "Hoppy Hour" from 4pm – 8:30pm, featuring a DJ spinning upbeat music while attendees enjoy beverages from their favorite Washington Breweries! Saturday, we'll be back from 12:00pm – 7:00pm (In 2021, We will follow COVID Safety Guidelines outlined by the state)
Grab your tickets and join us at our new home On Wetmore between Hewitt & Wall – Next to City Hall where we'll have plenty of breweries, lots of beer and live music all weekend long!
Great Beer, Great Food, Great Fun.
Food
Welcome to Everett's NEW Upper Left Beerfest & Food Truck Festival!
The 2021 Upper Left Beerfest and Everett Food Truck Festival are combining to be Everett's big craft weekend! Both events will happen on Wetmore between Everett Ave & Wall St with 20+ food trucks on Wetmore between Everett Ave and Hewitt Ave before leading to the Upper Left Beerfest gates on Wetmore between Hewitt and Wall. Beerfest attendees will have the option to exit the event gates, grab food and enjoy it inside the beer festival while enjoying tasty brews & live music!
The food truck festival is 100% free and open to the public. All ages are welcome so bring your kids and come enjoy some of the best food trucks around!
A complete food truck lineup will be available closer to the event.